Ghosts in Penang: Paying The Ferryman.
A spooky stay in Penang. 
You might already ask yourselves what's with the title about ghosts in Penang?
I will definitely tell you about it but not now because you'll need to follow the journey we had from when we arrived to the Pearl of the Orient until our last day there.
It was one of those long weekend holiday where we decided to take a drive up north to Penang Island. There were 6 of us and we squeezed into two Toyota Vios with multiple snacks and drinks on our laps to keep us entertained throughout the 4 hours drive.
From the city the view changed to palm oil estate and natural caves as we reached Perak and then it changed back to view with factories and industrial alike.
We have reached Georgetown, Penang finally.
Driving into the ferry.
Yes that's right! Instead of paying the RM7 toll and drive the across the Penang bridge we took the ferry again but drove into it with our cars. The last time I went onto the ferry was when I was 7 years old and I vaguely remembered what happened back then. This felt pretty different.
We paid RM7.70 to get into the ferry and queue accordingly. There were more than 3 lanes and one specially dedicated to the two wheelers. It was quite systematic. The officer could even remember which row came first or which row was last when he directed us into the ferry. It wasn't a long wait surprisingly.
It felt like Titanic only on a smaller scale.
Once we were on the ferry, we were allowed to come out from our cars and let the strong wind blow our faces like a scene from Titanic. We could see the Penang Bridge looking tiny from where we were. While enjoying the view, the car alarms kept on going off because of the rocky waters. It sounded like a bad version of Bach playing in the background.
Finally we were off the ferry and headed to where we would stay for the next few days, Paradise Sandy Beach Resort in Batu Feringghi.
It looked pretty old from the outside.
I guess some hotels and resorts were maintained well but this one looked like it needed a bit of new paint. However going up to our room which was at the far end of the wing, the room turned out okay even though there was a bit of a musky smell to it. I would like to state at this point that I didn't feel comfortable upon entering the room but because it was an apartment with two rooms, we just stuck with it.
There was a balcony with an amazing view of the sea and it looked like it was endless. Looking down I saw people in their bathing suits and floats getting ready to wade into the water. The sand was white as pearl and the weather is just nice to make a girl tanned.
That room.
There's two rooms in the apartment and it comes with a nice kitchen, dining area & living room. It also comes with TV, air-cond and refrigerator too.
However at this point I will need to share with you that there is a slight musky and eerie feeling to the place. Normally before I enter a hotel room, I'd knock on the door first, give salam and then open the door. This time, we just opened the door straight away. The feeling when I stepped inside was just weird. I also used the toilet but I was very silent because of this feeling I had when I entered the room.
Did I tell you that one of us could see spirits? It was one of those things that happen when your 'third eye' is strong and you could actually sense or see 'them'. While we were using the common bathroom outside, he decided to use the bathroom in the master bedroom. He zipped into the bathroom and came out like two seconds later to go to the outside bathroom instead.
Why? He didn't say. We kept it at that and left the room to explore Penang.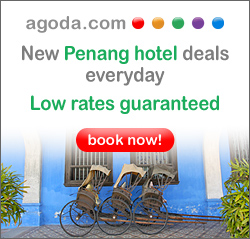 A Malaysian girl currently working abroad in Phnom Penh city. I love a good road trip, hot cappuccinos, spicy food and staring at old buildings. My mission is to inspire people to see the world differently before we all get any older. Oh and giraffes are the most beautiful creatures on earth.