Cambodia Chameleon: Getting Acquainted
Everything had happened so fast that before I knew it, the big day came for me to say goodbye to my homeland, Malaysia. It was a tough few weeks but I was relieved that things were settled before I flew off. The preparation list did not end there though because I still have to settle in to the land before work started. That didn't matter because everything I needed to know was here in Cambodia. I just have to learn to slowly adapt and adjust myself in this new environment. I do love the fact that people are generally friendly here and so far, genuine. If they want to help you, they will go all out to do so and with much sincerity. This along with a few other new observes helped me get acquainted with the Kingdom of Wonder.
Understanding the different areas in Phnom Penh.
This was confusing because the district names are hard to remember. So when we landed we chartered a tuk tuk for half day to get to know the different areas in Phnom Penh. My work place was in Tuol Kork which is 15 minutes away from the main city. There's a lot of International school area and a small lifestyle mall call TK Avenue if I want to have a quick coffee or Lucky Burger. Then there's the Daun Penh area which is a tourist spot because it's on Arts Street and right next to the National Museum. Rows of guest houses and pubs sit behind Street 178 if you're ever traveling here. Just 5 minutes away from Daun Penh is the famous Riverside which faces the Mekong river. The nightlife here is more vibrant and you can see a lot of tourists walking around the area as they mostly stay here. We also had asked the Tuk Tuk to take us to BKK1 area just to see how this Mont Kiara looked like. There's more high end coffee places, international restaurants and bakeries. At least going around the area helped us decide which would be a better place to stay.
Searching for a new address.
There are two ways to find good and affordable rental homes in Phnom Penh. We did both. The first was to search online through websites such as khmer24 and Independent Property Services which had a list of homes to rent out depending on our budget. A few homes were shortlisted but none from the list were reviewed because as soon as we got in, those homes were unavailable. The next best thing was to rely on local friends who contacted the owners directly for rental inquiries. The prices are less compared to going to the property agents but it will take a longer time to search for good places. After a few days of apartment hunting, we finally found a nice home on Arts Street, just near the National Museum. There's ample restaurants and guest houses for nightlife and it's a walk away from the riverside. It was also in the middle of both our work places which was an convenient to both of us.
Pinning down a reliable tuk tuk driver. 
This proves to be challenging because for one we didn't speak Khmer, which meant we're still seen as tourists, which meant the tuk tuk drivers charging us at tourist prices for transportation. There was an online travel site which charged USD260  month for the driver to send me to work everyday which was so ridiculous. Then there were word of mouth drivers who charged for USD170 a month. Both were such a ridiculous price since we're going to be staying here for awhile. Finally we relied on the property agent who has a tuk tuk driver for her daughter and she's willing to share the ride with us. The cost is still high but at this point we had to take it while searching for other tuk tuk driver who can take us for a lesser cost. If you're here travelling though, it's best to confirm the cost of the journey before getting on the tuk tuk and negotiate as much as possible as they tend to be pricey.
Understanding the grids
Using the same tuk tuk driver allowed us to get to know the roads better since he often uses the same road to get from point A to point B. The roads here remind me of Paris where the street numbers can be seen at the corner of buildings with the words "St" or "Rue". It is easier to tell the locals the street number than the name of a place because they're more familiar with it. Once you reach the particular street you can ask the driver to stop and walk to your destination. Sometimes you might find something interesting between the shops or alleys.
Learning the local customs
After the Sweden case, this was the most important thing that my parents emphasized. Every single day before my departure to Phnom Penh. Since we will be staying here for a few months (or maybe a year or two), we needed to understand the do's and don'ts so that we don't step on anyone's toes, especially the local authorities. The locals talk in soft spoken voices and greets everyone with a good "suo sdey" (hello). We still need to take off our shoes when entering homes, eat with chopsticks and avoid public display of affections. It's also seldom to see women shaking hands with men and vice versa. We also discovered that when addressing an older person it is polite to call them "Bong" and "oun" if they are younger. The locals are friendly too therefore it's always better to smile back when they smile at you.
Catching up on the local language
Unless you're Khmer or know the language fluently, you'll be able to get good prices around the city. Whenever we spoke in English, the prices double up so it's important to at least know how to say the numbers, a few greeting words, "How much does this cost?", "expensive", "cheaper" among the few. Once the locals know that you're not a tourist they will agree to the negotiated price and treat you like their own. Lately we've been emphasizing that we live here and this made them feel slightly embarrassed for pushing the prices too high. However, there's no harm being generous by tipping them for good services.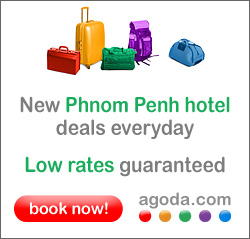 A Malaysian girl currently working abroad in Phnom Penh city. I love a good road trip, hot cappuccinos, spicy food and staring at old buildings. My mission is to inspire people to see the world differently before we all get any older. Oh and giraffes are the most beautiful creatures on earth.