Guide: Bangkok in 72 Hours
In love with Luxx.
I had won the 3rd prize of the KoolRed Asian Review Food Contest last year which consisted of a 2 days & 1 night stay at Luxx Silom Hotel and managed to go for a quick getaway to Bangkok. Since I was visiting a friend at the local hospital, I took advantage of this visit by using the hotel voucher.
When I arrived there, I was taken to the wrong Luxx hotel which was in Langsuan. This particular boutique hotel looked rather new and is located at the posh roads in Bangkok. It had a nice bar right in front with the hotel right at the back giving it a lot of privacy. Sadly this wasn't the place. I had to take another cab to the right Luxx hotel which was located in Silom area.
The correct 
Luxx Silom boutique hotel
 was located at a quiet area, near to the train station. However it wasn't as grand as the first one that I went to. It was more of a gray building and didn't look at all like a hotel from across the road. The hotel took up the entire building and mine was on the 4th floor. Without an elevator, I lugged my luggage all the way up the spiral stairs. Luckily I did not bring much items for this trip and managed to bring it all the way up.
Settling in.
It seemed pretty quiet but I guess since it was a studio unit, it was very private. Quiet can be good for a travel blogger like me as I was hoping to get some work done while I was there. When I opened the room, I felt an air of relief that it had a very industrial yet simple interior. The room came with a comfy sofa, TV, DVD player, a very nige huge bed which was separated by a glass door and (the most important part) a very nice wooden bathtub! Oh yes, while I was downstairs, the receptionist mentioned that I could borrow any DVDs that they have on their shelf and so I chose 'Transamerica' since I haven't watched it yet.
Unpacking all my belongings, I then sprinkled the bath soap in the bathtub and waited for the bubbles to appear before tucking in for a relaxing evening. Simply the best evening ever with just me, myself and a good book to read.
The very next morning, there was a knock on the door which came with a tray of breakfast. The night before I had crossed out the items that I preferred for breakfast and  didn't realize that it was a 'power breakfast' which consisted of a hard boiled egg, a giant chicken sausage, porridge, toast with jam, a croissant, strawberry yogurt, a glass of milkshake and a nice cup of coffee. I really felt full after the breakfast and was happy to check out in time.
For that short period of time, Luxx Silom boutique hotel was a good place to stay although it would have been better with an elevator (my personal view). However, the room, the friendliness of the staff, the bathtub and the power breakfast made all frustrations better. If you plan to stay longer in Bangkok under the Luxx hotel, it would be better to choose the other location as it is nearer to town area. 
After checking out and going to another hotel, I went out and explored the city as there was only 24 hours left in Bangkok. If you only have the same amount of time like I did, I would suggest you hit the following places:
1) Chatuchak Market
I went to Chatuchak for the local pad thai dish for 20baht and the must-have coffee for 30baht which came in a very tall tumbler-like cup. Braving the hot weather, I had a chance to walk around and do a little shopping before heading to another place. The market is usually packed on a weekend and you will need to get your bearings right if you're searching for specific items such as antiques, interior deco, clothes and such as the place is separated according to the categories. 
2) Platinum Mall
Now if you want to shop in an air conditioned place, you could try your luck here in Platinum Mall which had quite a lot of clothes and accessories for the shopaholics. However, the price could be slightly higher than Chatuchak Market unless of course you have great bargaining skills then this should be no problem. 
3) S&P Restaurant and Cafe
Before flying back home, I had a quick lunch at this quaint cafe which felt a little bit posh for a budget traveler like me. The menu had a great selection of local dishes and a palette of coffee drinks to choose from. Finally I decided on a cappucino and my favourite seafood rice soup. I seem to have a habit of eating the same thing in each country I've visited as it's something I've tasted a few times and liked. I really had a lot of time to kill that day and so I did some writing and ended up ordering another round of curry noodle an hour later. By the time I left I was in a state of content and happiness. There's nothing like Thailand and it has become a must to visit Bangkok once a year just to feel at home.
Thailand has been kind & gracious everytime I come down for a visit. Thank you for the hospitality and especially to Koolred for giving this prize as well as the friendly service from Luxx Silom Boutique Hotel. Kap-bun-kaa!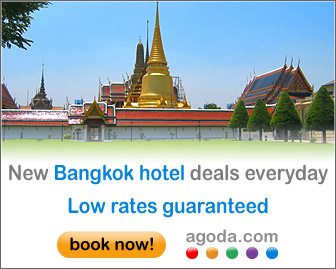 A Malaysian girl currently working abroad in Phnom Penh city. I love a good road trip, hot cappuccinos, spicy food and staring at old buildings. My mission is to inspire people to see the world differently before we all get any older. Oh and giraffes are the most beautiful creatures on earth.